Riga Transport and Telecommunication Institute
Riga Transport and Telecommunication Institute
Transport va Telekomunikatsiyalar Instituti missiyasi - klassik universitet an'analarini saqlagan holda innovatsion texnologiyalar, aniq fanlar va ijodiy yondashuvga asoslangan holda o'z bitiruvchilarini xalqaro mehnat bozorida raqobatbardosh kadrlar qilib tayyorlash.
Transport va Telekommunikatsiya Instituti (latish. Transporta un Sakaru Institute - TSI) - bu ko'p yillik tarixga ega zamonaviy universitet.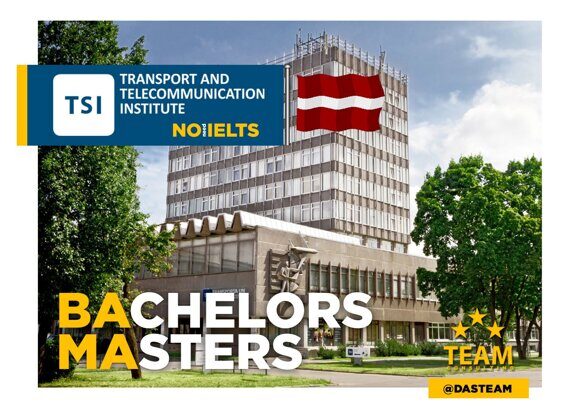 TSI - afsonaviy RKIIGA (Riga Red Banner Fuqaro Aviatsiyasi Instituti) va RAU (Riga Aviatsiya Universiteti) ning birlashuvi natijasida boshqacha qilib aytganda ikkala universitet o'rnida tashkil topadi.
Hozirgi ko'rinishdagi biz bilgan TSI 1999-yilda tashkil etilgan bo'lib hozirgi kunda Latviyadagi xususiy aviatsiya va texnikaga ixtisoslashgan oliy o'quv yurtlari orasida yagonasi bo'lib, u erda siz latish va ingliz tillarida yuqori darajadi oliy ma'lumot olishingiz mumkin. Institut oliy ta'lim muassasasi sifatida Latviyada doimiy akkreditatsiyadan o'tgan.
Endi esa TSI o'quv dasturlari va ularning narxlari haqida ma'lumotni berib o'tamiz


Bachelor

Computer Sciences

2700 €

Telecommunication Systems and Computer Networks

2700 €

Robotics

3400 €

Electronics and Electrical Engineering

2700€

Technical Maintenance of Aircraft Transport

2700 €

Aviation Transport

2700 €

Aviation Transport + practice (3 months)

3500 €

Transport and Business Logistics

2700 €

Management of transport organizations

2700 €

Social Sciences in Management

2700 €

Social Sciences in Economics

2700 €

Master

Computer Sciences

3200 €

Management of Information Systems

3200 €

Engineering Sciences in Electronics

3200 €

Transport and Logistics

3200 €

Social Sciences in Management

3200 €

Social Sciences in Economics

3200 €

Aviation Management

4200 €
1. Ariza
2. Diplom tarjimasi (apostl)
3. IELTS yoki boshqa til bilish darajasini belgilovchi sertifikatlar talab etilmaydi.
4. Nomzodning ta'lim xarajatlarni qoplash to'g'risidagi ma'lumotnomasi
5. Sog'lig'i to'g'risida ma'lumotnoma
6. Pasport nusxasi va 4 dona rasm 3.5x4.5
Intake: Yilda 2 marta oktabr boshida va fevral oxirida
Deadline: 30-iyun va 1-noyabr
Qo'shimcha ma'lumotlar uchun telegram, instagram va facebookda yozishingiz mumkin.
Telefon: +998 93 599 35 00